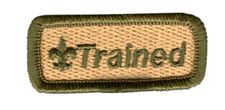 As an extension of my prior post, here is some more detail on the dilemma I am facing regarding our district's outdoor training scheduled for next weekend.  Earlier this year (January) the district training committee set out to have a weekend for the outdoor skills training for Boy Scout and Cub Scout leaders.  The plan was to have a "Training Extravaganza" weekend offering Webelos Den Leader specific training (Friday night),  Basic Adult Leader Outdoor Training- BALOO (Saturday) and Boy Scout & Webelos outdoor skills training- IOLS & WELOT respectively (Friday-Sunday) at one of our council camps.  Typically we hold this type of training in mid to late October.  The decision was made to this year hold the training in the spring to get leaders trained in advance of spring camping for Cub Scout Packs and to give Boy Scout leaders another opportunity to become fully trained, while still planning to run the October session as well.
There had been some promotion effort via email and Roundtable of all the training that was to be offered and things were seemingly going along well until I received the email I mentioned here.  Based on a headcount report from last Friday, the training chair felt there were not enough people signed up to hold the outdoor trainings (with the exception of BALOO) because the training uses the patrol method and group discussions and he felt if there were more trainers than participants, the training would be "ineffective."  I asked him to provide me with a better understanding on his (and the committee's) decision to cancel countering I was opposed to the decision based on the following:
Every Scout deserves a trained leader.  We need to deliver the opportunity for those that want to be trained.
We have previously cancelled training or combined training with another district at the last-minute and doing so again sets an unwanted precedent.
The registration deadline is not until this Friday 3/25.
Direct contact Boy Scout leaders need IOLS to be able to recharter.  (Units were to have a fully trained leader by re-charter in December 2010, but our council has provided a "grace period" until September to get leaders trained) 
Second year Webelos leaders (if not previously trained) should not have to wait until the fall – if then to have the outdoor training.  Bear den leaders moving up would benefit more with training now to be prepared for the next school year.
There are no other outdoor trainings on the calendar for the remainder of the year.  (The traditional October outdoor skills training is not yet posted) 
Outside of Roundtable and the March Scouting Newsflash email (blasted to the district distribution list), I am not sure there was much other promotional effort made to get folks signed up.
The Scouters lined up to present the training should be committed to being there, regardless of how many have registered up to this point.
In his reply to my inquiry, he stated he made a judgment call as the lack of interest shown less than two weeks before an entire weekend training is a pretty good indication that were not getting enough people out to properly do the event.  He also mentioned that another district was holding the IOLS and we'd encourage those registered for our district's training to go to the other one.  That would care for the Boy Scout leaders but not the Webelos (and Bear) den leaders needing Webelos Outdoor training.  He claimed he did not know about the registration deadline.  I am still new to the District Vice Chair for Program position and not sure who had the final say in a matter such as this, but would think that as a courtesy (since training falls under the program umbrella) my input would have been sought out prior to making the final decision.
Regardless, my input was not sought and after a conference call this afternoon with the training chair and our DE advisor to program/training to talk through the decisions and resulting concerns, we were told in no uncertain terms, if we can get people to training, he would hold it.  When I asked him how his training committee would be working to get folks there he told us getting folks to training was not their concern, it is not his concern if Scoutmasters not fully trained had their charters dropped if they did not get to training.
After all that, I am sort of at a loss as to where we go from here.  There seem to be fundamental differences in how each person views their role in this situation.  I am sure there will be more to this that plays out over the next few days.  It's days like these when it is apparent that the best interest of our scouts is not being taken into consideration.  That is very frustrating.  It's days like these when the Scout Spirit tank drops and runs on fumes.